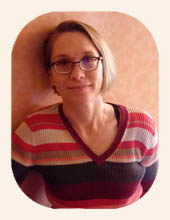 Trish Chacon, Intern, and her dog, Rauri
Rauri is a two-year old Australian Shepherd (Aussie). He is a registered therapy dog with Alliance of Therapy Dogs. When he isn't providing joy within the community, Rauri enjoys spending time at the park, chasing squirrels and rabbits, and playing with his Aussie sister, Danikah.
I am currently a Master's student with Grand Canyon University (GCU), and will graduate with my Masters in Licensed Professional Counseling (LPC) with and emphasis in Trauma and Crisis. In July, I will be starting my internship. Currently, I am a certified Trauma Professional, and volunteer at Grace for 2 Brothers and Alliance of Therapy Dogs (ATD).
I am a transplant for California, but have lived in Cheyenne the majority of my life. I have been married to my husband, James for over twenty years, and we have two Australian Shepherds; Danikah (5) and Rauri (2). In our spare time, we enjoy biking, hiking and traveling.